Heat up Your Woodcraft Miniatures
Talent with these Creative Ideas!
Woodcraft Miniatures - In this category we find anything from balls, blocks, books, boxes, buckets, rolling pins, wheels, school bells, to food items, etc.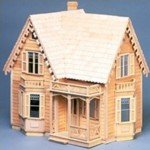 If you want to breathe life into wood projects the use of these various techniques are our suggestion:
Wood burning
Painting
Stencilling
Embellishing
Staining
Antiquing
Varnishing


With these techniques you can literally take your Plain Jane Craft Projects and turn them into stunning works of arts. Depending of course on how much effort you are willing to make.
Generally speaking too, you can apply any technique for larger wood pieces to your minis.
Like for instance, you'll be amazed at how easily a simple wood burning tool creates rich, intricate designs you can color with water-based paints, wax pencils, or gels.
Think of what the technique of wood burning will do for your imaginative woodcraft miniatures you design for your dollhouse.
Getting creative is easy when you first get excited about the projects you plan and then begin.
If you don't begin most times you lose the momentum of your first initial excitement. It all begins with willing steps forward. Or all is lost.
Gold leafing and crackle glazing designs with paint can both be done using special products sold in kits. All these creative ideas can be applied to any miniature within minutes.
Working in mini takes no time at all.
In fact most of your time will be spent in planning your next project. A few flicks of your brush on wood and you're done.
This fact can not be overstated. It takes no time to paint a miniature and complete your project.
After you get started in minis and find all the time savings you will indeed not want to return to full-sided items.
Design Tip #7
Easy to Use Designer Tools for your Growing Designer Needs
Be sure to check out these awesome woodcraft miniatures available below.
Getting Inspired is a Snap when you do This ..
Other Sources for Unique Dollhouse Miniatures
Porcelain Creations
Embroidery Designs in Mini
Persian Miniatures
Do you lack inspiration to create? Some ideas to grow your project portfolio could be as follows:
Walk down any aisle in any department store and begin dreaming of what contained there could be miniaturized. Our suggestion would be to find an aisle housing products you would find interesting in your own home. Bring a camera and take pictures.


Go to open houses of realtors, especially those that are imaginatively staged. Ask first if they mind you taking a few pictures and that you want ideas for your mini projects. Make sure it is not inconvenient for them.


Visit craft departments to see what wood items they sell in mini. Apply them in new and inventive ways to your scenes.


Look in your local library for interesting older publications to get maybe a new spin on your modern ideas.


Purchase a new book you have been eyeing and start practicing a great new-to-you miniature technique.

In other words with a little help from what life already has around you.. You can find you have a growing portfolio of ideas to dive into for miniature creation. The sky is the limit as you train your mind to always be thinking in miniature.
Dear Friend at the Doll House:
As an Amazon Associate we earn from qualifying purchases. So accordingly any link to Amazon opens in a new window on their site and gives us a commission if you buy. In turn it helps earn a small amount toward maintaining this site. Thank you for helping us keep doing what we enjoy.
This Page