Log Dollhouse. A Project worth Relaxing With.
Log Dollhouse. Hear the
Birds singing Just For YOU
You start your morning with your favorite cup of coffee, either flavored or non flavored, you choose. You then head outside onto a quiet porch overlooking a beautiful lake.
It's breath taking. You stop to sit and drink in all that you see. You see absolutely nothing but trees and water. No one stirring. You're miles from anyone. The only sound is the occasional coo of a bird in the distance.
What a picture of awesome bliss! Bet you can't wait to get there...
Even in Mini the Above scene is Amazing!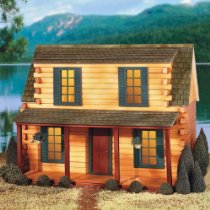 The cabin to the left looks just like the scene we described. Best news, it's a miniature!
Click here to find more pictures of log dollhouses for ideas on creating your own.
Your imagination is the only limit that you have as you create this miniature masterpiece. It is a quick build so it is super easy to construct. It's one of those dollhouses that you get to decorate without requiring you put your time and efforts into design construction.
Some Log Dollhouse Details
This model has Screw Together parts and Assembles in Minutes
Complete Kit includes everything you need to finish as shown except paint
Step-by-step instructions with detailed drawings
Stained and varnished hardwood floors
Solid pine walls and stained wooden roof shingles
Sale Price lists this model at the time of this writing at $318.10
Similar and fascinating Log Dollhouse can be found here. Also look in the product box below for ideas.
Starting your Log Dollhouse Project
Your Log Doll House Project. As you set up this model, the beginning is the most appropriate time to start thinking about furniture, decorations, accessories and anything else that will complete your project.
After all you will not want to start something and not aim at its total created state.
Ask yourself Good Questions Throughout...
Being a thinker when you commence a project is one of the biggest assets you have. No question is unnecessary if you truly do not know the answer. Good research as well as asking the proper people will usually yield the answer to most of your questions.
Look around your Home for Answers...
Definitely look around your own home environment to help decide about what you will need with any current miniature project. Seeing what you possess in real life will help you develop great designs for your minis.
If something you see is interesting then make solid plans to create it, purchase it or add to a current style to accomplish the design.
Get started in the right direction for choosing furniture pieces here.
This house just whispers Relax with Me
Dear Friend at the Doll House:
As an Amazon Associate we earn from qualifying purchases. So accordingly any link to Amazon opens in a new window on their site and gives us a commission if you buy. In turn it helps earn a small amount toward maintaining this site. Thank you for helping us keep doing what we enjoy.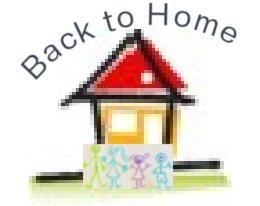 This Page