Our Site Transition
. . . Or in other words: Site Changes
Lately we feel like a butterfly ready to transition at the drop of a hat.
Having a combined creative mind and spirit usually can mean change on a smaller or larger scale. People, animals, plants . . . and yes even websites go through changes. Most of these do attempt to change for the better, however.
As do we . . .
We have provided this information to be both factual and historical in nature. If you ever want to know some of our journey feel free to check out this page. Plus if you ever want to know what the heck is going on check here for that info too.
The following info lists different transitions we
have gone through over the years with our website:
August 7,2012: You have probably noticed by now that our website is in disarray. No you are not imagining it, it is true. We are gradually changing for the better. It is slow but steady. We will get this done and on time.
It is now official we are on SBI's new platform BB2. We hope you are enjoying the new look.
Have no fear as well your favorite pages will be up and running in the next few weeks, we promise. So do stay tuned as we transition. Not overnight but just the same better than ever!
March 31, 2011: A word about our varying format. Success at Last!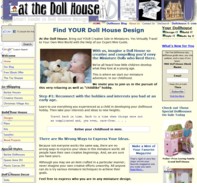 March 31, 2011: You may have noticed as you went through our site that there were differing layouts. Yes a slimmer version of this at-the-Doll-House.com Home Page appeared occasionally. This was just us going through changes for the better on our website.
The slimmer versions, namely our two (2) column pages, were being changed to the: at-the-Doll-House.com Home Page example of a three (3) column layout.
We hope this new layout will be much to everyone's liking.
And, as we are only the one person, as our about us page explains the transition was rather slow. But eventually we, you and I, have arrived at our appointed destination or goal. Which was, a brand new look and feel for this website.
Estimated Date of Completion: All changes have been completed as planned and ahead of the scheduled date of March 31, 2011. Thanks again for your time.
We apologize for any inconvenience that may arise due to these changes. Thanks for your understanding as we all transform together. at-the-Doll-House.com
Dear Friend at the Doll House:
As an Amazon Associate we earn from qualifying purchases. So accordingly any link to Amazon opens in a new window on their site and gives us a commission if you buy. In turn it helps earn a small amount toward maintaining this site. Thank you for helping us keep doing what we enjoy.
This Page