Making your miniature home for Barbie
as life-like as possible gets simpler...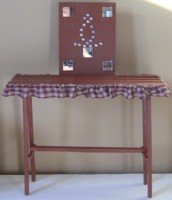 Playscale Vanity Table for Your
Fashion Dollhouse Entryway
Approximately 10"h x 8"w x 2.5"
Yes making your miniature home for Barbie as life-like as possible gets simpler as you create and purchase items that mirror real life settings in your home. In your home, picture being greeted with items you, yourself find exciting, even inspirational.
Now go one step further and envision that same scenario in your mini fashion home.
When you find details that inspire you personally on a full-sized level it gets easier to get excited about what's happening in your tiny world.
Truly with pieces like this one illustrated, it really becomes fun to create. And enjoyment is what creating for your fashion figure is all about anyway.
You can not be down in the dumps, as it is, when you're having such an amazing time creating excellent room atmospheres for your small mansion. Try it sometime... simply get into the creative wave and try to get depressed. It just isn't going to happen especially if you're constantly creating in a positive way.
This little playscale vanity table is made of real wood. We know that may sound silly. However if you are familiar with fashion accessories you know they are seldom made of wood these days.
Like we stated it is made of real wood painted with burgundy paint. Antique styled, highlighted with five small mirrors, tiny gem stones and a playful burgundy ribbon.
Your playscale vanity table is just waiting for you to invite it home to your small living places.
Picture the ambiance... Picture the atmosphere... Picture you enjoying every creative moment you spend on your amazing miniature world...
Picture completing all you have dreamed of doing. Make your mini world come to life today.
A Fine Collectible Playscale Vanity Table from At-the-Doll-House.com
Special Warning Note
This vanity table is both a collectible and for play. However it is definitely for the child whom you would classify as "one who takes care of her toys". One of maturing standards.
It basically is not meant for a younger child, ages 3 and under, as it has tiny parts that a small child could choke on or swallow if unsupervised. So take care in how it is handled in any child's playtime. Scale size: Playscale. Only 1 Available.
About the Products on this Page
Not all of these products may look entirely the same as pictured above, mainly because they are all personally handcrafted by Lois Williams.
A Word about Shipping
30 Day Money Back Guarantee if you are not completely satisfied. Please allow 6 - 8 weeks for delivery. Only shipped to Canada and the United States at this time.
See as well our Product Return Policy here.
Price: $49.99 /US