The welcoming smell of fresh baked cookies....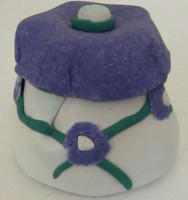 Mini Cookie Jars for Your
Mini Mansion Kitchen
Approximately 1.75"h x 2"w
All through the house.... your "doll" house that is....
Calling all children, including children at heart, to the irresistible smell and taste of fresh baked cookies.
MMmmmm..... just the thoughts of those golden treats sure make your mouth water in anticipation.
And your tiny residents feel the same, believe me. They simply look forward to all you plan to incorporate into their mini living space.
And so should they as you've put all of your imagination into designing great rooms.
Just about everything you can picture in real-life can be made into a tiny treasure for your doll's home. Look around you at all you see and you will start creating more and more.
The sky's the limit especially in your miniature kitchen. With the help of great building materials on the market today and unlimited ideas surrounding you, you can not help but be a success in your quest.
This miniature cookie jar of white background with purple top and flowers will add character to any fashion doll kitchen counter. See it full of cookies ready to be eaten. Now picture children asking and reaching for these bite-sized goodies.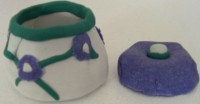 Tiny Cookie Jars
This represents a Real Taste
in Miniature it's the best!
Beginning to see, hear, taste, smell, and feel how things ought to look in mini are the very first steps in developing your personal miniature environment.
Use all of these senses to bring you to places where people can not help but seek out what you do in miniature.
Make it your goal for your tiny structures to become the one or ones to imitate. Ones that your family and friends will gladly agree that they are exceptionally well done.
A Fine Collectible Miniature Cookie Jars from At-the-Doll-House.com
Special Warning Note
This miniature cookie jar addition will be both a collectible and for play. However it is definitely for the child whom you would classify as "one who takes care of her toys". One of maturing standards.
It basically is not meant for a younger child, ages 3 and under, as it has tiny parts that a small child could choke on or swallow if unsupervised. So take care in how it is handled in any child's playtime. Scale size: Playscale. Only 1 Available.
About the Products on this Page
Not all of these products may look entirely the same as pictured above, mainly because they are all personally handcrafted by Lois Williams.
A Word about Shipping
30 Day Money Back Guarantee if you are not completely satisfied. Please allow 6 - 8 weeks for delivery. Only shipped to Canada and the United States at this time.
See as well our Product Return Policy here.
Price: $24.95 /US