Dollhouse Magazine

Announcing The Minis Zine

This is your official Invitation to join our Dollhouse Magazine Community. The Minis Zine. We would love to have you.


Joining our Community is Easy
It is not a difficult procedure to join. All you have to do is fill out the form at the end of this page. Then look forward to your monthly issues. We usually send out our Zine at the end of each month. So look for it in your email between the 24th and 31st.
This is the time that has been the most effective for us to send our publication out.
A notification is sent to your email and our Ezine is published online. So your email is not overloaded. What we advise doing is simply saving the Zine's Back Issues Page so you can always know where all our issues are.
Worth noting is the fact that your personal details will absolutely not be used for anything other than subscribing to our Dollhouse Magazine Community either.


Our Dollhouse Magazine covers Items such as:


A Main Dollhouse Topic - These articles deal with anything related to dollhouses or miniatures or anything in between. Topics of popular, creative or structural demand.
Miniature Project or Technique - In this section we cover a new project with details as to how you can create something for your mini environment. We usually stress using your own creative zeal to get the most out of each project. Anything you design, or are encouraged to, always outweighs something copied. Which adds to your overall self esteem.
In the Spotlight - This is where we highlight a special item regarding your tiny dwellings. Any items that come to our attention that we would like to share with you will be listed here. So check it out you could find something to add to your small world. Who knows what you will discover next!!!
What's been Happening At-the-Doll-House - Covered under this heading is all of what has been happening At-the-Doll-House.com of late. Like for instance, if we have developed any new pages we will tell you about them here. Plus we remind you of passed items of interest as well. (This section has been currently deleted. However stay tuned to our blog for any new pages found here.)
Our Share Categories - These are relatively new. We encourage you to pick a topic and share something of interest to you. Be brave and submit. We love hearing what's on your mind any time. Try to stay within the topic but don't be shy we are not awfully concerned about things that are a bit off.
However don't go way off topic and you should be fine. Believe us we will find a place for you as you submit.
Our Final Category Deals with Subscription Details. Like how to subscribe or unsubscribe from our dollhouse magazine. Yes we are holding no one prisoner. You can subscribe or unsubscribe easily with no questions asked.
Interesting products we find online and think you would like to know about are also emailed out on occasion. However never bothersome or inconveniently. So rest assured you have no worries.


As a final treat for subscribing you will also be receiving a copy of our Complementary EBook titled -- Ten Important Tips to Great Dollhouse Design.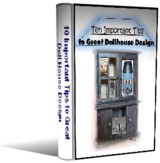 Ten Important Tips
to Great Dollhouse
Design
In our EBook you will be Introduced to Topics like:
Getting off to a great start with any project...


All steps lead to a complete finish...


A positive frame of mind is a true must-have...


What dollhouse designs are the best choices for you...


Research such things like time to construct and money costs along the way...


What design elements have you forgot?


Introducing Our Latest must have EBook ...
7 Ways our new Report reveals How You can Design Better, Quicker Plans than You ever Thought Possible

How developing your own dollhouse plans will help you get exactly what you want. Every time, all the time.


How to get all the information that makes your plan work. And work well for the family heirlooms you design.


How to build your dollhouse fast... Even when you're pressed for time.


The easiest way to gain access to great plans online without spending a tonne of money.


How to use this often overlooked "tip" to maximize your structural plans and save money that most people tend to forget about. Or think unimportant.


Why THESE finishes will get the results you have been dreaming of.


The steps needed to establish your choice way of  developing your own dollhouse ideas.

YOU'RE INVITED by AT-THE-DOLL-HOUSE.COM
to JOIN our EVER-GROWING
DOLLHOUSE MAGAZINE COMMUNITY...
Via THE MINIS ZINE
Simply fill in the form below. To begin your subscription. You may also be eligible for our Newest Offer. Read more about that here.
GET THE BEST DOLLHOUSE PLANS FOR FREE
Starting Today .. Design Doll House Plans Like a Pro
Today you CAN design your own dollhouse plans. And do it like the Pros.

DECIDE WHAT YOU LIKE. YOUR TRUE DESIGN PREFERENCES. THEN DEVELOP AND FINALIZE YOUR OWN PERSONAL DOLL HOUSE PLANS.


You CAN design Your Dream Dollhouse!


Get Free Report Here->


Read More Now
AS ALWAYS our BEST to YOU as YOU JOIN TODAY...
At-the-Doll-House Community Info
Dear Friend at the Doll House:
As an Amazon Associate we earn from qualifying purchases. So accordingly any link to Amazon opens in a new window on their site and gives us a commission if you buy. In turn it helps earn a small amount toward maintaining this site. Thank you for helping us keep doing what we enjoy.
This Page