HOME | Minis Blog | About Us | Contact Us | Back Issues | This Issue
May 2011 Ezine:
Get Started with your own
Doll's House Furniture (Part 3)
---
May 2011
---
The Best Wood Selection
In this May 2011 Ezine issue there are many types of wood to choose from as you construct your tiny furniture.
Some of the types to be aware of are:
Plywood....Use model plywood when selecting this type of material. The thinnest possible will do the best job 1/16in (1.5mm). Always select the best quality available for the most desirable finish as well. Plywood can be used for items such as doors, small fittings, backs of cabinets and any place else your imagination takes you. Be creative in your planning.

Mahogany....For the rich color it presents. It's great for cabinets, bureaus, kitchen tables and anywhere you want to display a more upper class kind of atmosphere.

Obeche....This kind of material is prized for its lack of splinters and resin. It's a good wood that cleans up smooth to the touch.

Ramin....Known for its fine grain and ease of use. Unfortunately this wood is also on the endangered species list so it may be advised to choose another type besides this. We all should be conservative in our choices when needed.

Basswood (lime)....Has a tendency to mark easily. However on the other hand it goes well with birch plywood. Good finishes with varnish are key to using this kind of wood successfully.

Walnut....Black walnut is a great furniture wood. It is sought after because of its hardness, exceptional grain qualities and color. It has been used both in furniture construction and carving alike.

Oak....This is a light colored wood that can be substituted for elm if necessary. Its fine grain has been used in many kinds of furnishing both of the present day and in the past.

Pine....Pine finishes well and can be worked with easily. However it does have a high level of resins and could gum up tools and items used in constructing your miniature furniture. Brainstorm your choices and choose the best of the best for your tiny furniture.

Balsa....An easy material to work with. Used by model crafters for years. However in some furniture types such as upholstered chairs and such, it pays to use this wood because when you are finished it is completely covered. It's not the most attractive wood to work with.

American Cherry....An exotic wood with fine grains and rich texture. Looks great as a finish wood that you want to display. More expensive to work with but the results speak for themselves.
Special Tip: When starting out choose Obeche or Basswood because of their ease of workmanship. They are both easy to cut and work with. Plus both give an attractive finish to whatever furnishings you may want to make.
The last two month issues look into other topics related to furniture creation. Check those issues out here.
Find out more about Dolls' House Furniture here...
If you prefer, buy ready made Dollhouse Furnishings here...
---
May 2011 Ezine PROJECT: Quick & Easy Springtime Entryway Decor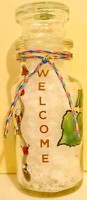 What is any Entryway, Mini Entry or otherwise, without a Special Welcome Decoration.
I call this my simple solution to Barbie's Entryway Welcome Dilemma. Made in playscale dimensions.
Materials:
For your Information: Hovering your mouse over any picture below will display the info for that item. Clicking on the picture will take you to Amazon in a new window. A list of all needed materials for this featured craft can be found below.
Mini glass jar
Small decals
Paints in your own choice of colors
Paint brushes
Rubbing tool
Tracing paper
Carbon paper
Instructions:
Wash glass jar and prepare for painting and detailing. Make sure to remove any obvious oily residue such as fingerprints or previous bottle markers, if using something from your kitchen. Glass spice jars are perfect for this craft.

On a separate piece of paper lay out but do not apply decal. Next draw spring time or other picture with pencil using the decal as your start point for creativity. Remember - playscale is 2 inches equals 1 foot. So make your design in scale.

Apply decal to jar. Rubbing until picture is fully attached to glass.

Transfer drawing to jar using carbon paper. Paint lines as desired.
More Pictures to be Added Later. As soon as this project is dry and completely finished, lol...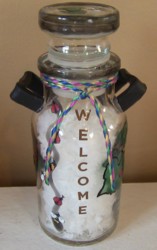 ---

View or Buy Miniature Milk Jug.



Chocolate Crumb Cake for Dollhouses
Looks so good you could eat it!
By Small Wonders
"Miniature Chocolate Crumb Cake with Whipped Cream and Cherries by Small Wonders is designed for the 1:12 scale miniature setting. Measures: 1 1/16 in wide x 3/16 in tall. Made of fimo clay." Quote from Amazon.com
View more items like Miniature Chocolate Cakes right here.
---
What's been Happening At-the-Doll-House.com
Get all your mini tool supplies.
Treat yourself today.
We have a brand new look about us these days. Check it out here.
We are always building new pages for you At-the-Doll-House.com. It seems that the more we build, the more new and exciting ideas come to mind. Some of our newest pages include:
A Beacon Hill welcome to you. Your Beacon Hill Home. Is this type of structure for you or not? It seems to be for all but that's just our opinion. Find out if it will be your next miniature project.
Let Custom Built houses become you in Mini. Custom built houses are the cream on your mini world. If you can afford this route for your next structure why not pursue it. Let someone else create and design, you sit back and reap the many rewards.
Living Room Designs. Create living room designs that you desire for your mini mansion because you like them. Never sell yourself short. Always believe in what you CAN create. It's worth it to you.

For more details about our site check out The Doll House Blog here.

To see more issues like May 2011 Ezine Newsletter online click here.
---
---
---
Subscription Details:
To get placed on our monthly email list fill in the form above in the right column.
To remove your name from our mailing list, please see instructions at the end of monthly Ezine notification email.
Questions or comments? E-mail us using this convenient form on our Contact Us Page.
Or call us at: 506-457-9512.
---

The Toy Shoppe
Visit our Dollhouse Store Online for houses, furnishings, dolls, kits, supplies, books..... for ideas on wares, designs and ready-made goods.
---

---
Dear Friend at the Doll House:
As an Amazon Associate we earn from qualifying purchases. So accordingly any link to Amazon opens in a new window on their site and gives us a commission if you buy. In turn it helps earn a small amount toward maintaining this site. Thank you for helping us keep doing what we enjoy.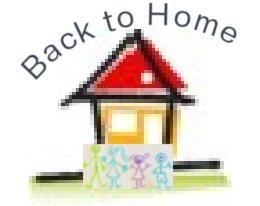 The Minis Zine