Hi,


5 Simple Steps with Home Designer
---
1) Become use to Home Designer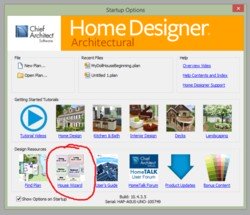 Begin by opening up your program. Look for the "house wizard" located in the startup options panel. The picture on the right shows where this item is found. In other words this is what my program looks like. I hope that older and newer versions have somewhat the same feature.

But anyway, the house wizard is in the red outline. It will make using and designing with this program easier than drawing it all out on your own. You can select rooms and other ideas for your dollhouse in this stage.
---
2) Select all Current Ideas Now
Yes start and actually think in terms of what you would like to see in your dollhouse structure. Do not even consider readjusting the program to meet the measurements of your dollhouse at this point. Just get your ideas down in the program.

Go wild if you want and select rooms, hallways, the number of floors .. You can always delete or add to your structure at a later stage in the development of your plans.

Adjusting this program to incorporate the dollhouse measurements at any point, is a waste of your time. It is an exercise that will only end up frustrating you. Unless you are an expert, I advise you to keep all the workings of this program at normal full size lengths. After all, designing a dollhouse should be fun, not discouraging.

This is your ultimate beginning. You would not like to end like my younger sister. When she described her sewing experience to me I knew she was not meant to be a seamstress. Because her story ended with the article she was working on in a heap in the corner of the room. If that's your story with designing, stop now, do yourself a favor and buy a kit, lol.
---
3) Get Creative in Room Placement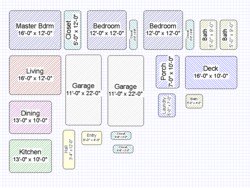 After you have gone through the House Wizard selection process. It is now time to arrange your rooms. All of the items you selected are there. One thing to remember is that all of your selections can easily be shrunk or enlarged.

The picture to the right shows all the rooms I chose before arranging anything. Think of it as being a puzzle to fashion together as you please. The features do not drag and drop as usual. They go 2 ways only. Straight up and down, or straight across from left to right. Then when placing them in position they snap together somewhat like a puzzle piece. And they are just as easily relocated as well.

The center holds the key to relocating or positioning any piece. Look for the usual 4 pointed square to move any item. Simply click in the center and it will appear for you.
---
4) Nearing Completion is Exciting
Okay so really it is far from done. But you can still see your own progress. Especially as it starts to take shape. You have your ideas in the program and are moving towards looking at it in its final design stage.

You may find doing what I did a huge help. I just thought about a house I like and began from there. I recalled the way rooms were located and then added or ad libbed other parts. The best thing about it as well. It is your own ideas. If you want a closet wherever. Put one there. No one will tell you, you can not.
---
5) View your Dollhouse Floor Plan
The great thing about Home Designer is that you can view your floor plan any time you want. Plus it adds doors and different elements to the plan. You can choose to keep them there or delete and make your own variations.

To the right you can see my structure in a floor plan view. It actually took me a bit of time to locate where the floor plan view feature was. It's located under Tools, then House Wizard and finally you click "Build House".

Who would have guessed that Floor Plan would be called "Build House". But anyway, once you find it you can see how things will look in your final layout. Not bad for a few small steps.
---
Come visit At-the-Doll-House.com today and begin creating your own miniature dollhouse floor plans.
Click on any picture above to view a larger version. Plus to find more about Home Designer click here.
---
If you are not a member yet and you are receiving this newsletter, sign up to receive your copy here.
---
Thanks so much for subscribing to The Minis Zine. Be sure to hit the Facebook "Like" button on any issue page if you like it. Thanks again!

Have a great day, see you next month and enjoy your Dollhouse EZine.

To Your Success,
(.\_/.)
(='.'=)
(")_(")
Lois Williams lois@at-the-doll-house.com
Smart Guide 2 Doll House Design!
Styled, Built, Designed! Made by You!
At-the-Doll-House.com

At The Doll House
New Brunswick, Canada
506-457-9512


Check out our Informative Doll House Blog:
https://www.at-the-doll-house.com/Doll-House-blog.html

Follow Me!
http://twitter.com/athedolhouse
http://www.facebook.com/pages/At-the-Doll-Housecom/147224525319181

P.S. Be sure and check out a great way to obtain the dollhouse plans you desire on the special page featured here.
The following links will take you directly to some great topics:
Check out our latest EBiz page for crafters...
Study these free courses online ...
People usually assume that what you get for free has next to nothing for meat included. Not so with these freebies. You will not find this info being given away anywhere else. And yes you can read everything without spending a dime...
(https://www.at-the-doll-house.com/web-design-course.html)
Join our Dollhouse Community it's Easy...
Pull up a miniature chair and relax. You are invited...
Join our dollhouse community and share in our topics provided. We encourage you to share as much as you feel comfortable with. Hope to see you online...
(http://www.at-the-doll- house.com/free-woodworking-plans.html#5thSection)
Our topical reference for each Ezine Issue...
Get comfortable in your miniature chair and start reading past editions... We have always wished that the issues page was more detailed. Now there are more details to help you get around. Hope you enjoy the improvements...
(https://www.at-the-doll-house.com/free-woodworking-plans.html#backissues)