Hi,


EZine Mini Issue February 2013
While away your winter hours creating and
having fun with the Ariella Dollhouse Plan.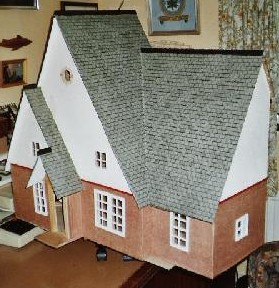 ---
As Always:

10 Important Tips to Great Doll House Design can be found here:

10 Important Tips to Great Doll House Design

Members can get the password by emailing me directly. If not a member just apply at the link "Get Your Free EBook". Found in the right column.
---
Get in on this unique but creative plan today ...
I recently got acquainted with this interesting and imaginative dollhouse plan from DollHouseDesigns.COM...

You really never know nowadays online when you purchase products if they will indeed be all that you hoped they would.

Like for instance if they will be a bunch of fluff with no substance to them. Ever bought something like that lately? I have. Of course an easy fix if you are lucky. You send it back and get your refund.

But in buying the Ariella Dollhouse Plan I discovered a wealth of great ideas. This one purchase definitely is all I hoped it would be and more. Much more actually. Especially if you are wanting to start a brand new project and work away at it these winter months.

In Canada the months, in particular the winter ones, seem to go on and on. And reports of snow storms only seem to make the time seem that much longer. So for those of us who do not have sports to occupy us we choose new projects to pursue.

This project has a wonderful front view you will discover. Its multiple layered look makes it compelling to start. It quietly gets your imagination going as to what you can accomplish.
The Ariella's 1:12 Scale features include:
Three floor design
Chalet style roof
Large living room
Formal dining room
Two Bedrooms
Kitchen
Bathroom
Attic
Playroom
Split stairway to 2nd floor with landing and return.
Check my current page on The Ariella Dollhouse Plan here. This link will answer some of the questions you may have concerning it.
The Ariella Dollhouse Plan awaits your Review.
Plus you will also want to check out the Time Limited Offer here. Get the best of the best savings possible if you are interested in purchasing this and other plans at this moment.
P.S. Hit the Facebook "Like" button on the page if you like it. Thanks!
Thanks so much for subscribing to The Minis Zine.
(.\_/.)
(='.'=)
(")_(")
Lois Williams lois@at-the-doll-house.com
Smart Guide 2 Doll House Design!
Styled, Built, Designed! Made 4 You!
At-the-Doll-House.com

At The Doll House
New Brunswick, Canada
506-457-9512


Check out our Informative Doll House Blog:
https://www.at-the-doll-house.com/Doll-House-blog.html

Follow Me!
http://twitter.com/athedolhouse
http://www.facebook.com/pages/At-the-Doll-Housecom/147224525319181