Hi,


April 2013 Issue
---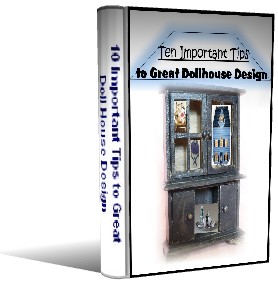 Get your update to our ebook. We have just completed a much needed revision You can check it out today...
Password Needed to Enter
If you are currently a subscriber and in good standing (simply meaning you have not unsubscribed) you can get the password at any time. Basically contact me through my contact us page and I will send it right out to you. I have provided the link here for your convenience. Contact me with this link and I will respond as soon as possible.


---
Our update includes a new location:

10 Important Tips to Great Doll House Design can be found here:

10 Important Tips to Great Doll House Design
---
The new url: https://www.at-the-doll-house.com/10-Important-Tips.html
You will find a new online page plus a convenient place to download your ebook. As always it is free. No fee to access or use the facilities. Hope you come out to visit real soon. We have the tea and coffee on. Go ahead pull up your mini armchair and get acquainted.
If you are not a member yet and you are receiving this newsletter, sign up to receive your copy here.

---
Starting a Craft Business of Your Own Online
Developing an online craft business can be overwhelming to say the least. However there are places on the web where you can literally learn a tremendous amount of practical information to help you and your business grow substantially. Both using video and printed material.

Today I am pleased to say that I have found two amazing companies that specialize in training people for an online enterprise.

If you have ever been slightly interested in pursuing a business of your own online or have one let me say this to you... It takes a commitment on your part to make it all work. And on top of that it takes a lot of reading and doing.

But since I have hooked up with great teaching companies I am seeing results. If you apply yourself so will you. You can do this biz thing if you so desire.

With all this in mind let me share this upcoming sample teaching with you...

Truthfully I have been debating in my mind about this company. Because I seriously got involved for what I would honestly say was next to nothing. And I mean nothing. So I have currently been scoping them out for my own sake as well as yours.

Knowing you are busy let's dive right in... Believe me just sitting in on this you will walk away with great biz ideas if nothing else... All adaptable to you...
Online Business Teaching 101 Begins here...
Priceless info Presented about Google Plus.
Social Media is the Place to be with Your Biz...
Depending on who you talk to, it's not a question of IF Google Plus will ever overtake Facebook as the number one social network in the world...

It already IS the number one social network.

My friend Eric Walker just so happens to be one of those people.

Join me this Thursday, April 25th for a free video presentation where Eric (along with Ann Sieg) will lay out for you, in clear and concise terms, why he believes Google Plus is THE best social network:

https://www.at-the-doll-house.com/Webinar-Thursday-April-25th

When it comes to Google Plus, it seems like people either love it or they hate it.

There's been some controversy surrounding it and even though Google Plus isn't exactly new, many people have still been very reluctant to adopt it.

And that is exactly why, as Eric will show you, there is still a substantial "early mover's advantage" to be had by those who invest in the big G's social platform now.

That's exactly what he's done and on Thursday he'll show you why you should consider planting your flag there too...

https://www.at-the-doll-house.com/Webinar-Thursday-April-25th

All personal opinions aside, here's what we know for sure...

Google Plus has over 135 million active users, which is nothing to sneeze at.

(Again, according to who you talk to, there are other numbers people will point to as being a lot higher) Furthermore, Google Plus is growing at the same rate that Facebook was when it was that size, adding about 14 million users per month.

But perhaps most importantly, especially to the marketers and would-be marketers here...

Is that there is absolutely no question about it:

Google WILL shamelessly, without pretense and without reserve, give a completely unfair and unmistakable advantage in the search engine listings to those who give in to "the dark side" and actively use their social network.

Will you be one of them?

Join us online Thursday to find out:

https://www.at-the-doll-house.com/Webinar-Thursday-April-25th

Thanks so much for subscribing to The Minis Zine. Be sure to hit the Facebook "Like" button on any issue page if you like it. Thanks!

Have a great day and enjoy your Dollhouse EZine.

To Your Success,
(.\_/.)
(='.'=)
(")_(")
Lois Williams lois@at-the-doll-house.com
Smart Guide 2 Doll House Design!
Styled, Built, Designed! Made 4 You!
At-the-Doll-House.com

At The Doll House
New Brunswick, Canada
506-457-9512


Check out our Informative Doll House Blog:
https://www.at-the-doll-house.com/Doll-House-blog.html

Follow Me!
http://twitter.com/athedolhouse
http://www.facebook.com/pages/At-the-Doll-Housecom/147224525319181

P.S. I will be sending out a reminder email just so you don't forget to tune in Thursday. Because I have actually signed up for these kinds of items and then forgot but remembered the next day lol. And darn, it's too late then! They pack some great info in these. So it's not to miss, really!

---
The following links will take you directly to some great topics:
Check out our latest EBiz page for crafters...
Study these free courses online ...
People usually assume that what you get for free has next to nothing for meat included. Not so with these freebies. You will not find this info being given away anywhere else. And yes you can read everything without spending a dime...
(https://www.at-the-doll-house.com/web-design-course.html)
Join our Dollhouse Community it's Easy...
Pull up a miniature chair and relax. You are invited...
Join our dollhouse community and share in our topics provided. We encourage you to share as much as you feel comfortable with. Hope to see you online...
(https://www.at-the-doll-house.com/miniature-kitchen-cupboards.html#5thSection)
Our topical reference for each Ezine Issue...
Get comfortable in your miniature chair and start reading past editions... We have always wished that the issues page was more detailed. Now there are more details to help you get around. Hope you enjoy the improvements...
(https://www.at-the-doll-house.com/miniature-kitchen-cupboards.html#backissues)